Regular price
Sale price
79,90 €
Unit price
per
Sale
Sold out
In stock
The breathing trainer with vibration and sound
The Cegla RC-Fit trains your breathing by specifically addressing the diaphragm. The breathing trainer enables breathing therapy in which you can inhale and exhale evenly. Sound effects give you the feedback you need so that you can train evenly and effectively.
Breathing is the key to more performance, health, regeneration and stress management. A disturbed diaphragm function (main respiratory muscle) affects breathing and posture - thus on the physical and mental state of health. Loss of performance, chest problems, back pain, neck and shoulder problems, restricted posture are possible consequences. Tiredness, exhaustion or lack of energy due to lack of oxygen or reduced carbon dioxide exchange can occur.
The RC-FIT CLASSIC helps, among other things, to reduce stress, relieve tension pain, improve concentration, absorb more oxygen and improve quality of life. The RC-FIT CLASSIC is suitable for dissolving mucus in acute and chronic diseases of the respiratory tract. Analogously to pursed lips, the bronchi can be stabilized by a conscious, slow exhalation. Effective in treating respiratory problems such as B. in long-/post-COVID, COPD, treated bronchial asthma and pulmonary emphysema, cystic fibrosis (CF), dysphagia (swallowing disorders), smoker's cough and for atelectasis prophylaxis. The RC-FIT CLASSIC can be used as a preventive and health-promoting breathing trainer for athletes, speakers, actors, singers, musicians and people of all generations.
Mediative tones when inhaling and exhaling with the RC-FIT CLASSIC ensure relaxation and calm in everyday life and support yoga and mental training. It promotes rehabilitation after illnesses and operations and prevents hyperventilation in emergency situations as an anchor for shortness of breath.
How does the RC-FIT breathing trainer work?
The inlay in the RC-FIT CLASSIC with integrated valves generates oscillations (vibrations), which are perceived acoustically as tones when used. The vibrations propagate in the airways. During respiratory physiotherapy, the airways are widened, congestion is loosened and coughs and shortness of breath associated with colds and chronic diseases are alleviated. Exhalation is slowed and stress is reduced. The respiratory muscle training strengthens the airways, increases the volume of the lungs and more oxygen can be absorbed. The lymphatic system is stimulated and tension is released. The person concerned feels fitter and more efficient. In addition, there is a more conscious perception of body functions.
What effects can regular breathing training achieve?
Breathing is essential for health, physical and mental performance and stress management. If the main breathing muscle, the diaphragm, is tense, this can lead to a drop in performance, chest problems, back, neck and shoulder pain, postural problems or shortness of breath. In addition, lack of oxygen or reduced carbon dioxide exchange are possible reasons for tiredness, exhaustion or lack of energy. Regular breathing training:
Increases performance
Strengthens health
Stimulates well-being
How do I use the RC-Fit breathing trainer?
We recommend starting at the lowest intensity level (basic position I). Breathe in and out through the mouth with about 15 breaths, at least twice a day (more if necessary). If the tone is constant and persistent, the RC-FIT CLASSIC is being used correctly and the necessary flow and pressure fluctuations are being achieved. We recommend drinking a glass of water before use to moisten the airways. If it is or becomes too easy or the sound is consistently too loud, the intensity of the application can be increased to up to 30 breaths over four levels. In the event of shortness of breath, we always recommend use in basic position I (set automatically when the cover is removed after transport).
Please read the enclosed instructions for use before using it for the first time.
All advantages at a glance:
Breathe better, live healthier - breathing is the key to health, performance, regeneration and stress management. It improves concentration, sleep, digestion, blood pressure and metabolism
Unique breathing muscle training with vibration and sound - the oscillations (vibrations) free the airways, meditative tones calm and relax during inhalation and exhalation.
Breathe healthier in all situations - the RC-FIT CLASSIC can be used lying down, sitting, standing and moving. Whether on the couch, in the car or during training - indoors and outdoors.
Made in Germany - developed and produced by CEGLA Medizintechnik from Rhineland-Palatinate - a real family business and pioneer in breathing since 1982.
Simple, handy and hygienic - the RC-FIT CLASSIC is easy to use, fits in any trouser pocket and can easily be boiled in a pot of hot water.
View full details
MORE INFOS
Product features

- trains the inhalation and exhalation muscles - keeps the airways open - releases secretion with oscillations - reduces coughing and shortness of breath - reduces the respiratory rate - calms and relaxes
Care instructions

Wipe clean with a dry cloth.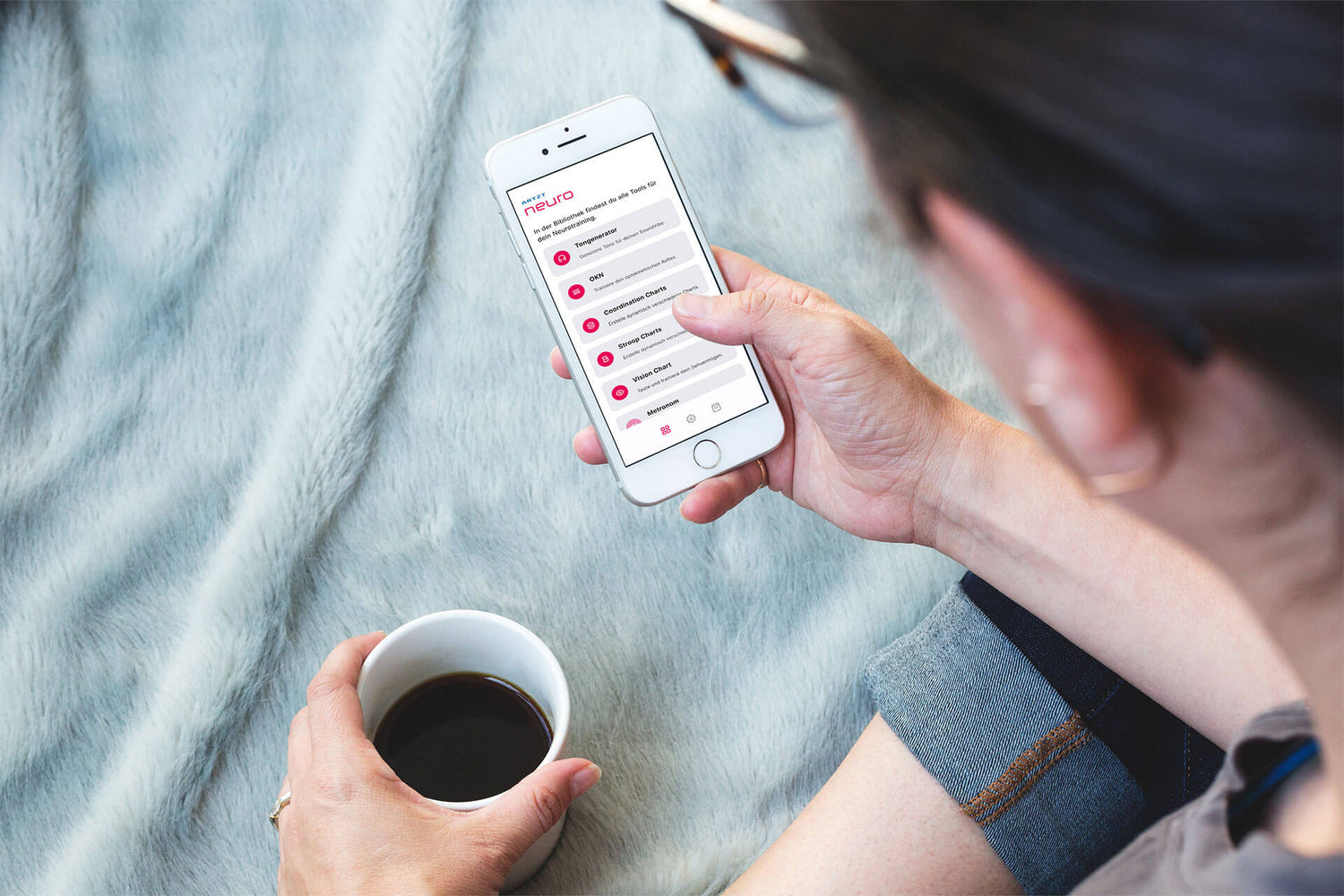 GET THE APP
The neurally by ARTZT app was specially developed for neurotrainers. Here you will find all the digital tools you need for regular exercises with your clients.
MORE INFO
NEUROATHLETICS EXPLAINED QUICKLY
What it does, what it can do. Watch the video for a brief explanation of what neuroathletics is.
SUSTAINABLY THOUGHT
ARTZT neuro is one of our newest brands. You could previously find the range at the quality brand ARTZT vitality.

In order to act sustainably and to continue to use existing packaging and instructions, it may well happen that a neuro product still bears its original ARTZT vitality label.

However, you can be sure that this does not cause any disadvantage. These are the same high-quality products in the usual quality.