Regular price
Sale price
29,95 €
Unit price
per
Sale
Sold out
In stock
The breathing belt - your companion for headaches, migraines and stress
Proper breathing has a relaxing effect, improves body awareness and thus makes it possible to make the unconscious breathing process conscious. The more relaxed our organism is, the more efficient we are.
The ARTZT neuro breathing belt is the everyday solution for your daily breathing training. It is fixed between the iliac crest and the lower costal arches, creating a light but comfortable pressure on the abdomen. In addition to the skin and muscles, the internal organs also get a different tissue pressure. This change in pressure can lead to the activation of various areas in the brain that are responsible for regulating the central nervous system (including reducing stress).
Relaxation, regeneration and performance go through the stomach!

How do I use the ARTZT neuro breathing belt?
The flexible belt is strapped around the upper abdomen between the iliac crest and lower rib cage. It can be worn daily for 15 to 30 minutes for targeted training of the respiratory muscles, or for several hours or overnight for regeneration, for example after a hard day at work. Additional breathing exercises can further increase well-being.
The direction in which the belt is pulled or applied is variable and can be perceived differently from person to person. Therefore, try both pull directions and choose the one with which you feel more comfortable and flexible.
Breathing training is particularly effective if you combine wearing it with controlled, slow breathing exercises. To reduce stress, make sure you breathe out longer than you breathe in. For example, inhale for 4 seconds and exhale for 6-7 seconds. You can simply count quietly to 4 or 7 without actually paying attention to the seconds. You can consciously practice this breathing several times a day for up to 10 minutes.
Use the breathing belt for conscious, slower breathing:
To activate the relaxation nerve, the vagus nerve
For headaches, migraines, tension, muscle tension, stress, dizziness, digestive and postural problems
For training the respiratory muscles in order to achieve better oxygen supply and better breathing
View full details
MORE INFOS
Product features

Can be used up to a body circumference of 115 cm With patch pocket for your smartphone
Material

70% neoprene (inside), 28% nylon (covering), 2% polyurethane (fastener)
Dimensions

113 x 22 cm diameter: approx. 30 cm
Scope of delivery

1 x breathing belt, instructions
Care instructions

Hand wash with soap and water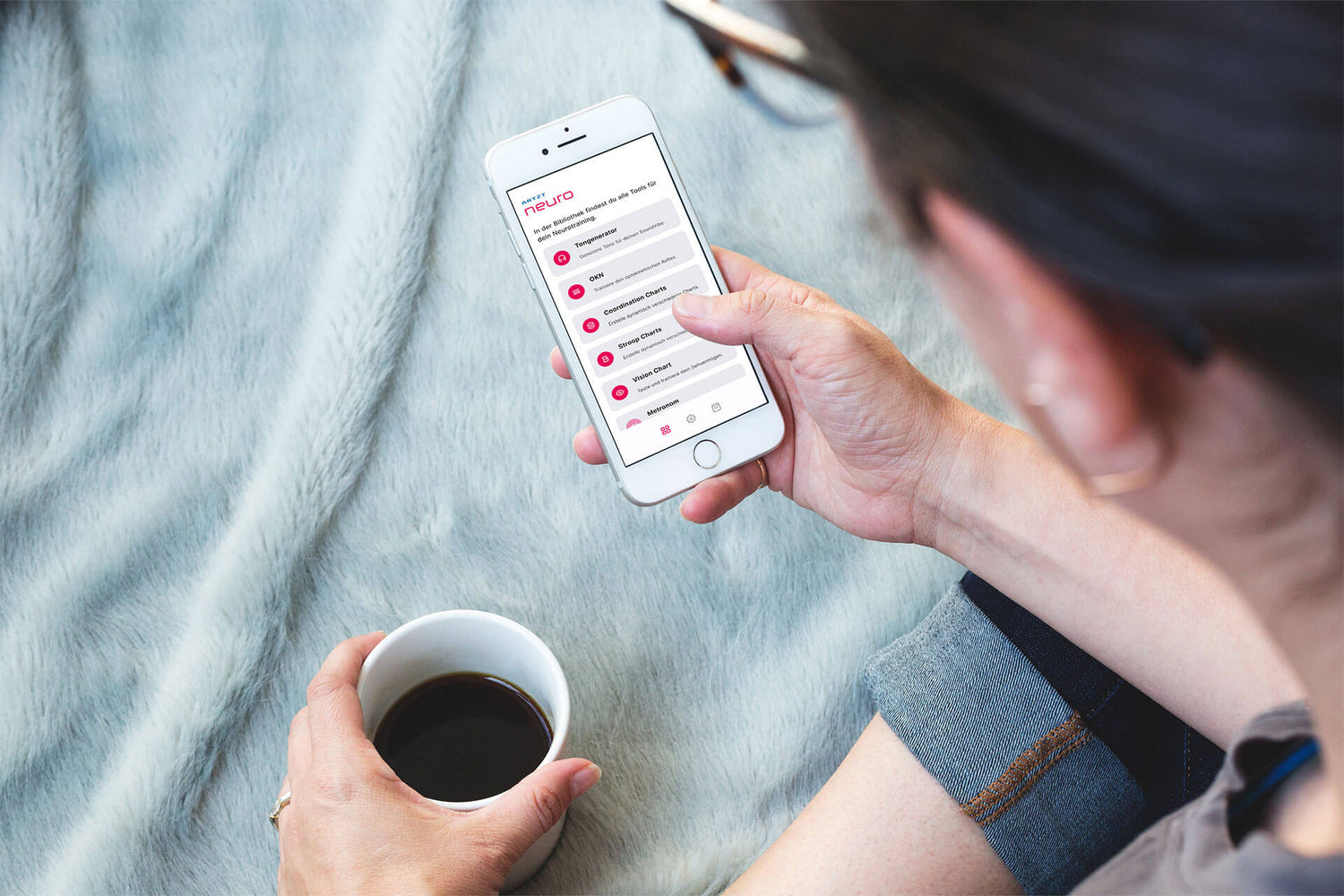 GET THE APP
The neurally by ARTZT app was specially developed for neurotrainers. Here you will find all the digital tools you need for regular exercises with your clients.
MORE INFO
NEUROATHLETICS EXPLAINED QUICKLY
What it does, what it can do. Watch the video for a brief explanation of what neuroathletics is.
SUSTAINABLY THOUGHT
ARTZT neuro is one of our newest brands. You could previously find the range at the quality brand ARTZT vitality.

In order to act sustainably and to continue to use existing packaging and instructions, it may well happen that a neuro product still bears its original ARTZT vitality label.

However, you can be sure that this does not cause any disadvantage. These are the same high-quality products in the usual quality.