Regular price
Sale price
249,00 €
Unit price
per
Sale
Sold out
In stock
For at-home training use. Unique light, sound and vibration-based training.
FEATURES

- Multicolor RGB LED lights for visual stimulation
- Speakers for auditory stimulation
- Vibration motor for tactile stimulation
- Touch, tap and motion sensors
- Upala™ proprietary feature for body balance assessment and training
- Proprietary technology for connectivity of up to 24 ROX and connection range of up to 80 m
- Grouping function to train with different groups at same time
- Li-ion rechargeable batteries with 4-6 running hours
- Touch power button
- Hardware controlled by App
MATERIAL

- Jet-Fighter material (Polycarbonate/ ABS)
- Anti-shock construction
- Water-repellent
- Rubberized coating
SIZE & WEIGHT

- Size: 11x11x5CM per ROX
- Weight: 0.27KG per ROX
SCOPE OF DELIVERY

- 3 x ROX
- 1 x charger with 4 socket adapters for type A and B, C and F, G as well as I
View full details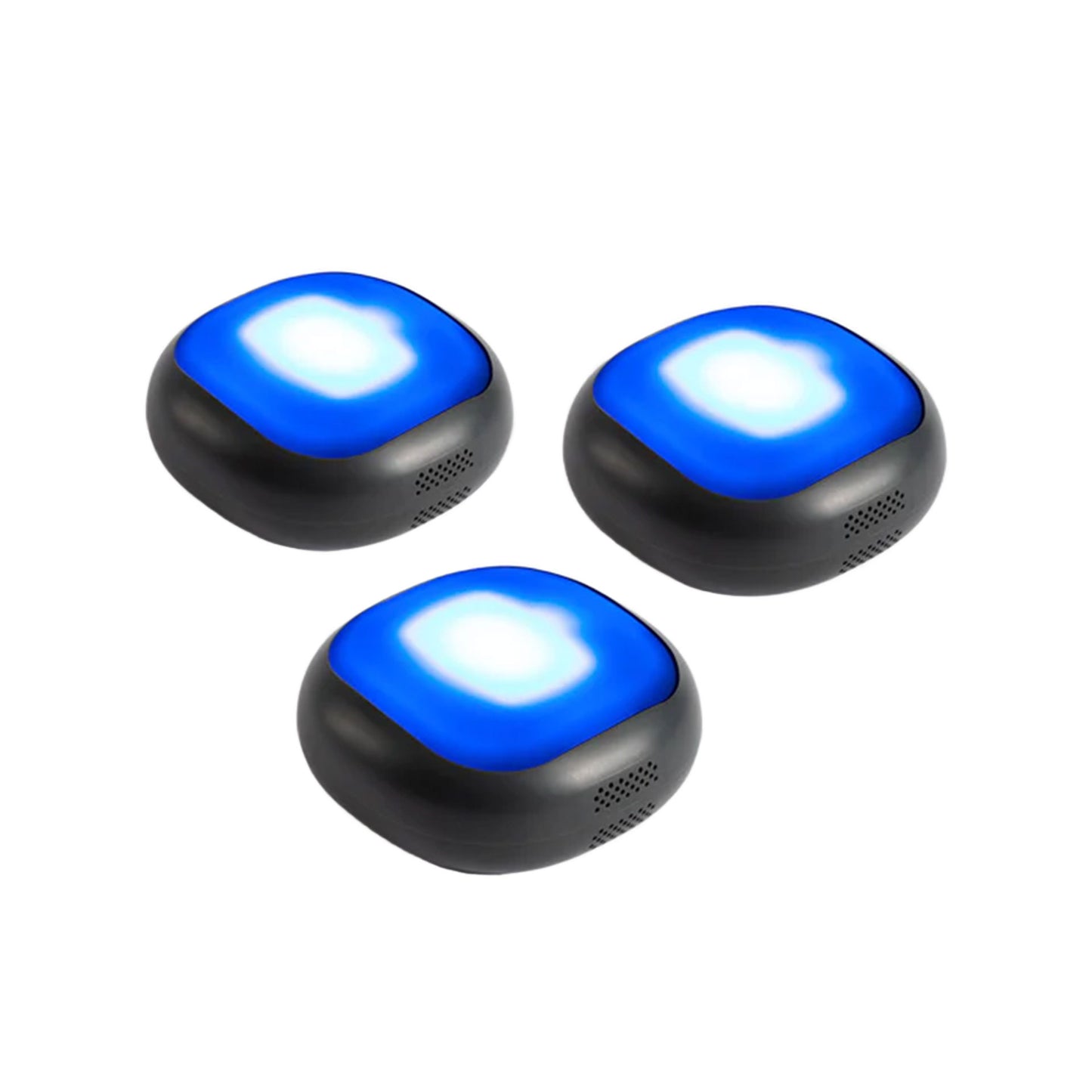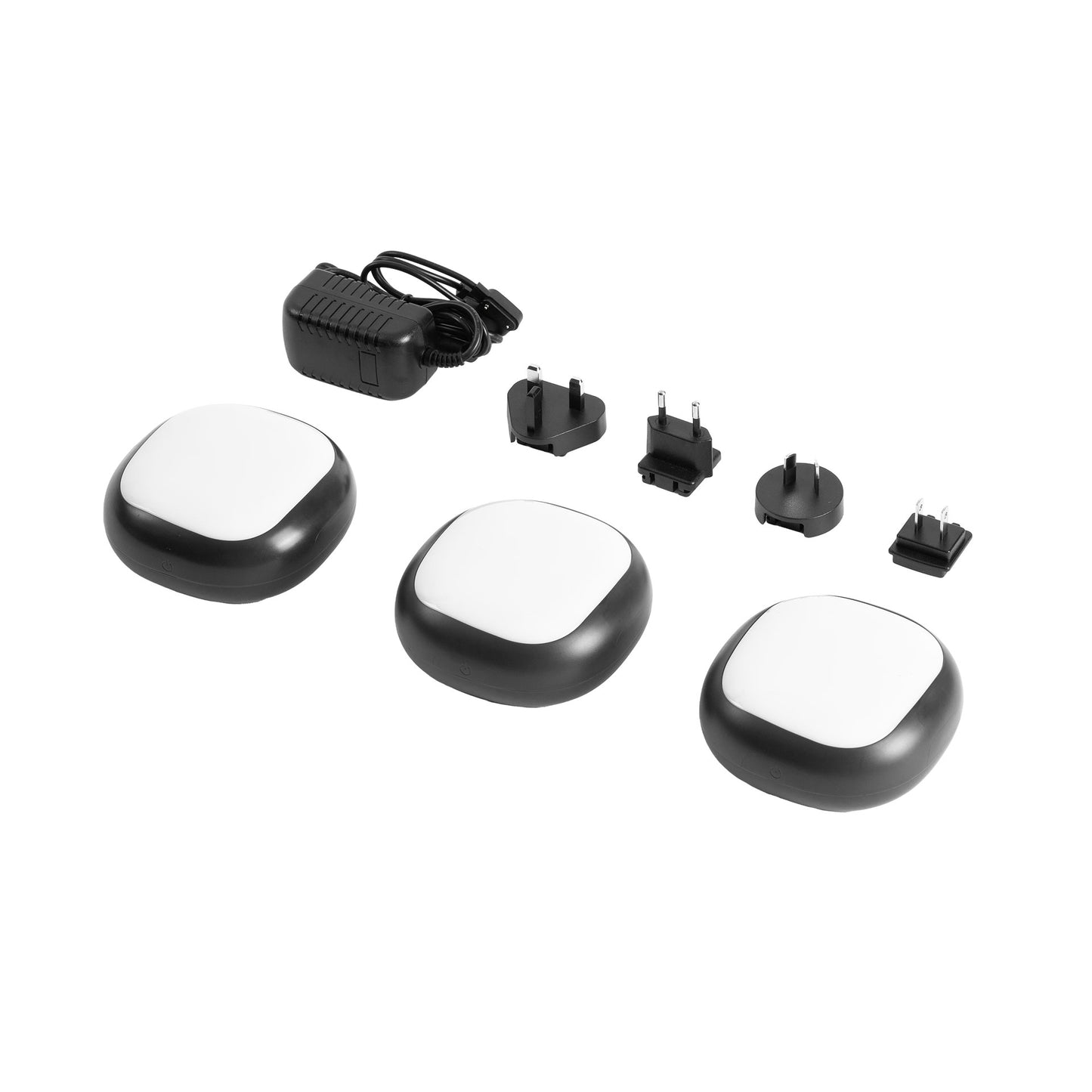 HOW DOES IT WORK?
The ROX pods have a sensor that emits a randomized signal (called "external stimulation") in the form of a flashing light, a sound or a vibration. The athlete has to PERCEIVE the signal through their eyes (blinking), ears (sound) or skin (vibration).
Once the information is perceived by the brain, it has to PROCESS the information, for example, a green light stands for making a move to the left side and a red light stands for making a move to the right side. In this scenario, the brain has now received the information that a red light is blinking, the brain processes the information and makes a decision that a right side movement is necessary.
The brain then sends a command to the relevant muscle groups to REACT with a movement that goes towards the right side.
THE ROX SYSTEM
Simulate in-game scenarios
Increase performance
Boost motivation
Capture objective data
Engage the whole team
Pro level tech - easy to use
Collapsible content
THE ROX

Light, sound and vibration based stimulation with the ROXPro interactive sensor device. Our Pro model has an improved connectivity range that allows you to connect more ROX to work in extensive fields and large groups.
THE FREE APP

Erhältlich für iOS und Android. Einfach zu bedienen, von kompletten Trainingseinheiten bis hin zur Erstellung eigener Programme.

Arbeite mit videobasierten Übungen und offenen Programmen, die auf einer eigens entwickelten Trainingsmethodik basieren.
THE DATA

Get a realistic picture of your training development with live feedback, assign results to a specific athlete and analyze performance with the app or cloud based dashboard. Tracking results has never been easier!
THE METHODOLOGY

Our MSNP™ Training Methodology was developed by sports-scientists with the aim to increase performance and results of high-performance athletes. The 7 target areas of motor-cognitive that MSNP™ develops are: Sensory capacity, movement, decision making, concentration and alertness, learning and memory, emotional management, and engagement
CHOOSE YOUR ROX SYSTEM
ROX

8 colours
Standard speaker
Motion sensor
Jet-Fighter Material
punch & water-proof
12 sensitivity levels
Modular system
5.5 h battery life
Connect up to 6 ROX
20 m range

View

ROXPro

8 colours
Waterproof speakers
Motion sensor
Jet fighter material
punch & water-proof
12 sensitivity levels
Modular system
6 h battery life
Connect up to 24 ROX
40 m range

View

ROXProX

100+ LED Icons
Standard Speaker
Motion Sensor
Jet-Fighter Material
punch & water-proof
Touchless sensor with 10 - 15 cm range
Speed Measurement Feature
Modular system
6.5 h battery life
Connect up to 64 ROX
40 m range

View
GET THE FREE APP
Download, connect and go!
REAL TIME DATA

Analyze your match and practice data. Compare and compete with the pro players from academy to first team level.

CLOUD BASED DASHBOARD

Analyze you or your clients' data through the cloud-based dashboard and export it into your own system.

IN-APP ANALYSIS

Every interaction with the ROX is captured in real time and recorded in the Analytics section of the app. Analyze your data and track your progress over time.

LEADERBOARD

Compete with the world and compare your results with other users through the global leaderboard.