THIS AWAITS YOU
Exciting topics

Professional sports
Parkinson's and stroke
Visual processing
Strength training
Physiotherapy
Injury prevention and pain reduction
Breathing
Yoga

Much variety

Cool location with campus character
Practical workshops for beginners and advanced
Impulse lectures
Product tests in the Neuro Innovation Area
Time for networking
Thrilling talks with the speakers
Full catering
Overnight accommodation on site

.
When?

Friday, 16.06.: from 13:15

Saturday, 17.06: 09:00 - 17:30

Where?

Hennef Sports School
Sövener Str. 60
53773 Hennef

Who?

Top-class speakers from science, medicine and top-class sport such as Dominik Suslik, Dr Ulf Sobek, Luise Walther and many more.
Berengar Buschmann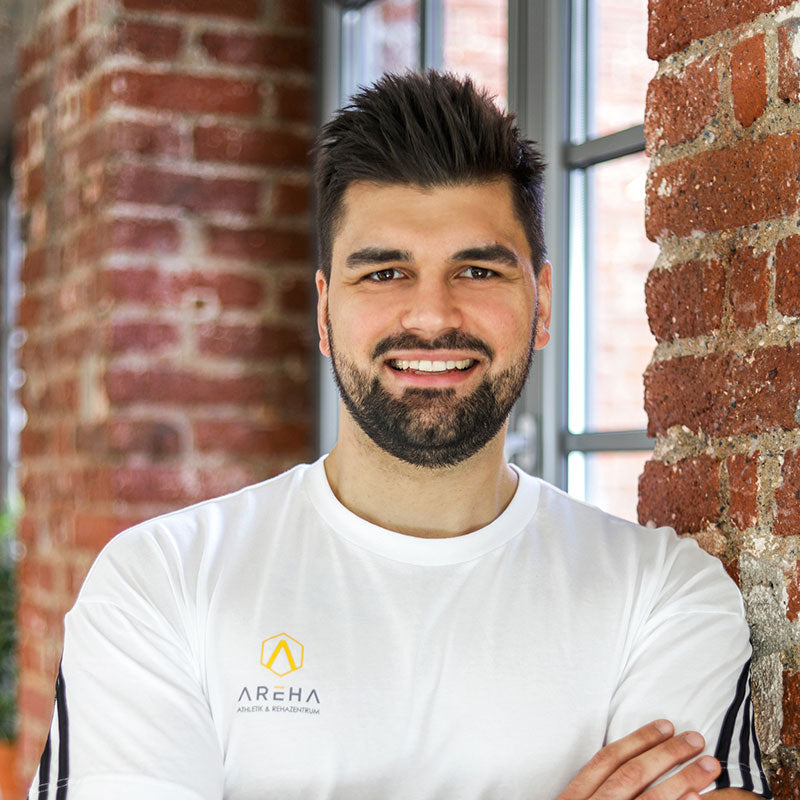 Physiotherapy meets Neurocentric Training - Holistic Strategies for Pain Reduction

One of the big current questions for therapists and trainers in medical settings is how to effectively integrate neuro-centred training into everyday therapy? Where are the effective interfaces, the important tools from both worlds, for the same systems?

Berengar and Yassin show you new holistic approaches to pain reduction and functional optimisation in an understandable and practical way!

Physio meets Neuro - experience the first steps of a promising new combination.
Vita

Berengar ist Sportphysiotherapeut aus Leidenschaft und lebt diese Berufung innerhalb seines "zweiten Berufslebens" täglich dynamisch und optimistisch.

Er ist seit 10 Jahren als Dozent und seit 6 Jahren mit Sportlern aus dem Hochleistungs-/Profisport (Top 100 Tennisspieler ATP sowie Fußballer aus der Bundesliga und Champions League) im Einsatz. In seinem ersten beruflichen Lebensschritt war er Berufsfußballer, wurde zum betitelten Sportinvaliden und kam stärker zurück ins Leben als je zuvor.

Diese Erfahrungen helfen ihm heute seinen Kunden bzw. Patienten zu helfen.
Seither tüftelt und entwickelt Berengar als "Gesundheitsvisionär" an und mit seinem AREHA Team das "möglichst perfekte Konzept" zur Gesunderhaltung.
Louise Belloso Castelló
Yoga and Balance - Holistic Balance Training

The sense of balance could also be called the sixth sense. Unlike the "five senses", to each of which one sense organ is specifically assigned, balance makes use of several channels. Thus, vestibular, visual and proprioceptive information come together. These processes run mainly automatically and subconsciously. Nevertheless, the information-processing processes running in the background can be specifically trained and refined. For example, practising micro-movements and mindful exploration of three-dimensional space helps to expand movement competence and stability.

Yoga asanas are excellent for versatile balance training. Specific head movements, gaze directions and proprioceptive training can be incorporated into asana sequences without much effort.

Explore your sense of balance with Louise and gain a deeper understanding of how it works and interacts.
Vita

Through her studies in Indology, Louise came to India and thus to yoga. There she completed her first basic yoga teacher training from 2006-2007. Since then, Louise has further deepened her knowledge in this area and related forms of movement (Spiral Dynamics I Pregnancy, Birth, Postpartum I Fascia I Hypnosis).

Yoga is now an important part of her life and gives her a valuable haven of peace in her everyday life with her five children. Since 2018, Louise has also completed five further training courses of the Z-Health Neuroathletics training and successfully integrates the knowledge gained there into her yoga further training courses.
Dr. Julia Christensen
Mind the gap - brain and dance

Habits are programmes in our brain that run automatically. But can we reprogramme them and use our time wisely so that it motivates us - or our clients - and helps us move forward?

Julia Christensen uses the work of professional dancers to show how we can understand these processes and thus have the chance to change them positively. We can learn from dancers. A ballet pirouette has more to do with your everyday life than you might imagine. Let Julia's dancer knowledge and the latest neuroscientific findings move you to mentally pirouette. In this way, you will become fit for the digital world of tomorrow with yesterday's analogue habits.
Vita

Dr. Julia F. Christensen began professional dance training after leaving school. An accident forced her to end her dance career. Instead, she made dance her research focus as a neuroscientist.

Julia Christensen studied psychology and neuroscience in Spain, France and England and earned her PhD at the University of the Balearic Islands. Since 2019, she has been at the Max Planck Institute for Empirical Aesthetics in Frankfurt a.M.

Born in Denmark, she is now at home all over Europe, speaks six languages fluently and is considered THE expert when it comes to the brain and dance. Together with her colleague, Dr Dong-Seon Chang, she published the book "Dancing is the best medicine. Why it makes us healthier, smarter and happier".

Her lectures are entertaining, tailor-made and wonderfully suitable even for those who don't dance!
Dr Homayun Gharavi, MD
Athletics of the respiratory function - The intelligence of breathing in the functional structure of health

Breathing is a matter of course. It is all the more astonishing how little it has been the focus of training science. This lecture sheds light on its position in the structure of the body's overall function. Using everyday examples, the 5-time Olympic doctor illustrates the principles that unite health and performance. We expect an entertaining but provocative talk that will challenge established beliefs.
Principles of (neuro-)athletic conditioning - Nothing works without the brain!

The term neuroathletics leads to the assumption that it is a self-sufficient and isolated concept. This workshop shows you the interdependencies between neurological and all other skills. The fine sense for the details of movement execution of seemingly trivial exercises plays just as crucial a role as the mechanical effect on neuronal structures.
Vita

Home holds a PhD in Medicine & Sports Science and has been a self-employed coach and consultant in international professional sports for 20 years. He has been a coach at five Winter and Summer Olympic Games and numerous World Cups, including Jürgen Klinsmann's 2014 World Cup advisory team. Dr Home is the owner of a private practice for functional medicine and sports medicine in Lüneburg.
Kevin Grafen
Injury prevention and pain reduction thanks to brainstem activation

Many people complain of pain on only one side of the body and have a history of injuries on the same side. Classical therapies are carried out, but in many cases they do not help. It may even get worse!

But why is that? The problem could lie in the formatio reticularis in the brain stem. This has the task of reducing pain on the same side and provides reflexive stability. If the formatio reticularis does not fulfil its function, pain and injury will result. You will learn how to train and address the formatio reticularis in this workshop by Kevin.
Vita

Kevin Grafen graduated in sports science from the German Sport University in Cologne in 2013. Since 2020, he has been one of the few Master Trainers of Z-Health® Performance from America, where he completed the entire curriculum under the guidance of neuroscientist Dr. Eric Cobb.

Kevin grew up in the martial art of karate and, as a holder of the second DAN degree, offers training courses in the field of neuro-centred training for the German Karate Association. He is also active as a lecturer for other sports associations, therapy facilities and companies.

As the sports science manager of a health centre, Kevin works with patients in the therapeutic and rehabilitative fields and trains with competitive athletes from various sports.

Kevin is the author of the book Neuronal Training with Fitness Groups (Meyer & Meyer Verlag) as well as various professional articles on the topic of neuro-centred training and therapy.
Susann Conrad
Neuro-centred training in neurological rehabilitation

Occupational therapy means making everyday life possible. Neurological rehabilitation is about initiating and optimising movement and transferring it into everyday life.

In this workshop, Susann will show you which requirements have to be met for movements and how the approach of neuro-centred training can be used. Susann will focus on neurological diseases such as stroke and Parkinson's disease.
Vita

Susann is an occupational therapist with over 20 years of experience in neurology. She is a lecturer in neurological treatment procedures. In addition to treating painful shoulders, her specialisation lies in the therapy of people with neurological diseases such as Parkinson's, multiple sclerosis as well as after strokes.
Yassin Jebrini
Physiotherapy meets Neurocentric Training - Holistic Strategies for Pain Reduction

One of the big current questions for therapists and trainers in medical settings is how to effectively integrate neuro-centred training into everyday therapy? Where are the effective interfaces, the important tools from both worlds, for the same systems?

Berengar and Yassin show you new holistic approaches to pain reduction and functional optimisation in an understandable and practical way!

Physio meets Neuro - experience the first steps of a promising new combination.
Vita

Yassin is one of the leading coaches and trainers in the field of neuroathletics. He uses his experience as a Z-Health Master Practicioner, former competitive athlete (football & rowing), Master's graduate of the German Sport University Cologne and long-time trainer to educate ambitious coaches and therapists as well as athletes in neuro-centred training and therapy approaches.

His six-month Neuroathletics Mentorship is one of the most professional and in-depth training programmes in the German-speaking world.
Andreas Koenings
Breathing from a neuro-centred perspective - Optimal energy for brain health, performance and freedom from pain

Each of us takes about 24,000 breaths a day. Athletes even more. Incorrect breathing patterns not only reduce performance and fatigue, they also lead to tension, chronic pain and many other problems. Breathing is the basis for physical and mental performance. It increases our resistance and our energy in everyday life and during training. No wonder that breathing training has become more and more popular in recent years and is also used in training and therapy. You will see breathing from a new perspective and understand the neuronal connections.
Vita

Andreas Könings is a neuroathletics trainer and the first German Z-Health® Master Practitioner. He works with top athletes from various fields, coaches and therapists as well as various emergency services, among others. Andreas is an experienced trainer and mentor in the field of neuroathletics and head of the German Academy for Neuro-Performance.
Tina Nguyen
Neurocentric strength training

In this workshop, Tina shows you how to effectively combine neuro exercises with traditional strength exercises. Through fun and effective neuro exercises, you will see how perceived exertion decreases and power output increases when you improve reflexive stability using the vestibulocollicular reflex (VCR) and targeting the vermis (cerebellum).

Tina will also show you how to optimise the use of bilateral exercises such as barbell movements, pull-ups and push-ups by targeting specific pathways in the cerebellum (cortico-ponto and cortico-olivo-cerebellar pathways).

Take your strength training and that of your clients to the next level!
Vita

Tina is a former competitive athlete in volleyball, weightlifting and CrossFit. Born in Canada, she founded her fitness studio Black Box Athletics in Cologne in 2013 and leads it as managing director and head trainer.

After being exposed to neuro-athletics as an athlete and experiencing the outstanding results in her own training, Tina began her Z-Health studies with Dr. Eric Cobb in 2014. Since then, Tina sees and lives exercise and sport from a neurological perspective and incorporates her diverse experiences when successfully coaching professional athletes as well as clients with health issues.

Tina has developed the neurofunctional training concept Kraftletics, which integrates neurocentric exercises into functional training for small groups. She has mastered the art of creating varied Kraftletics training programmes that seamlessly integrate neurocentric approaches into conventional functional training. The intelligent training design offers intensive workouts in a playful atmosphere.
Anders Olsson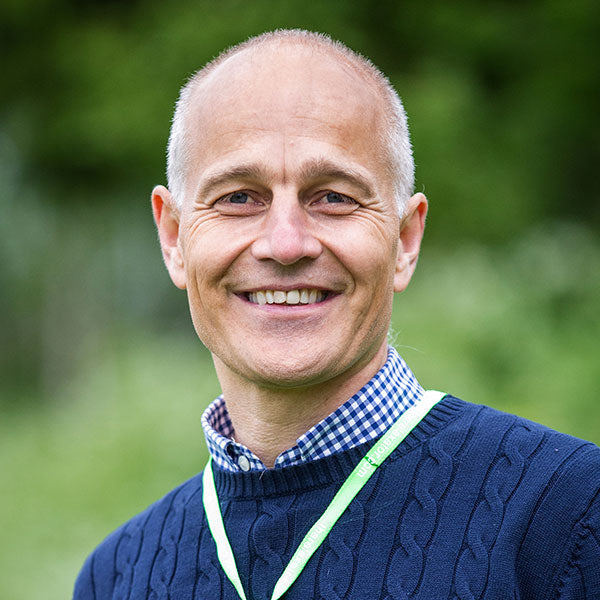 Understanding the true power of our breath - Why carbon dioxide is the key to efficient oxygenation

When it comes to breathing there is a lot of focus on oxygen. From one perspective it makes a lot of sense since we are so extremely dependent on oxygen. However, too much oxygen is not good as it is also very reactive and thereby toxic. This is the reason why we store so little oxygen in our body, so that we can only survive for a few minutes without breathing.

What is not commonly understood is the importance of carbon dioxide, and most medical textbooks refer to it mainly as a simple waste product. Nothing could be further from the truth. Carbon dioxide is just as important as oxygen. The hallmarks in our society, stress and inactivity, reduces carbon dioxide in our body.

With each inhale and exhale you'll affect your nervous system. Your breathing habits set the stage for all other rhythms in your body, from heart and brain to digestion and sleep. In this talk Anders will share some simple yet powerful tools and insights to increase your tolerance for carbon dioxide and restore a healthy balance between oxygen and carbon dioxide.
Vita

Anders Olsson is an author, lecturer, teacher, inventor and founder of the Conscious Breathing Concept.

After living most of his life with a "hurricane of thoughts" bouncing back and forth in is head, Anders was fortunate enough to come across tools that have helped him relax and find his inner calm. The most powerful of these tools has undoubtedly been to improve his breathing habits, which made Anders decide to become the world's most prominent expert in breathing.

This is now more than 10 years ago and since then he has helped tens of thousands of people to better health and improved quality of life. In 2018 Anders facilitated and participated in a groundbreaking three-week breathing study at Stanford, USA.
Niko Romm
Neuro-athletics in professional sport

What is the difference between working with the nervous system of professional athletes and working with "normal" people? What can we learn from the work in professional sport in relation to the "everyday athlete"?

Pure testing of all cranial nerves is one of the basics of working as a neuro-athletic trainer. However, neuroathletic training content must go beyond improving isolated functions in order to really improve control problems and enable a transfer to sport in the long term.

In Niko's practice-oriented workshop, you will learn valuable practical knowledge from working with professional footballers. Position-specific work will be addressed as well as stacking of inputs, active contractile mapping and multi-dimensional mapping of end-grade joint movements under load (EROM Loaded Joint Mapping).
Vita

More than 25 years of experience as a trainer, founder of Valeo Personal Training and activities as a performance education specialist for the company EXOS, as an athletics trainer in hockey, professional football or as an individual coach of professional athletes in various disciplines, provide Niko Romm with a wealth of experience. In addition to his practical work, he has several years of international experience as a seminar leader and speaker for more than a thousand coaches and physiotherapists to date. As the Premier League's first neuro athletics coach, he was employed by Norwich City FC in 2019/20 and has held the same position at 1. FC Köln since January 2021.
Kilian Saekel
Kognitiv-Motorisches Training mit ROX

Du willst Wahrnehmung, Entscheidungsfindung, Agilität und Reaktionsschnelligkeit effektiv und mit Spaß trainieren? Dann ist dieser Workshop perfekt für dich!

Kognitives motorisches Training kombiniert körperliche Aktivität mit kognitiver Stimulation. Es hat in den letzten Jahren erheblich an Anerkennung für seine signifikanten Vorteile für das Training vom Spitzensportler bis zum Parkinson Patienten gewonnen.

Diese Art des multisensorischen Trainings verbessert nicht nur die körperliche Fitness, sondern auch die kognitive Funktion und das Zusammenspiel von "Kopf und Körper". Zufällige, externe Reize in Form von Licht, Ton und Vibration triggern einen ganzheitlichen Trainingsprozess nach dem Konzept WAHRNEHMEN - VERARBEITEN - REAGIEREN. So können reale Spiel- und Alltagssituation repliziert werden. Es gibt immer mehr Belege für die positiven Auswirkungen des kognitiven Motoriktrainings, so dass es mittlerweile unumstritten ist, dass die Integration in das Training zu einer Verbesserung der allgemeinen Gesundheit, der Performance und des Wohlbefindens führen kann.

Das smarte ROX-System erkennt Bewegungen wie Tippen, Schütteln, Balancieren oder Kippen. Durch Licht, Ton und Vibration werden alle Sinne angeregt. Die Signale werden via Bluetooth mit der kostenfreien A-CHAMPS ROX PRO App gesteuert. Die ROXPro X sind zudem mit einem Lasersystem ausgestattet, sodass berührungslos trainiert werden kann.

In Kombination mit der neuen LED-Anzeige (Buchstaben, Zahlen, Symbole) hast du so unendlich viele Trainingsmöglichkeiten. Kilian zeigt dir, wie es geht!

Vita

Kilian ist ein in Barcelona basierter Entrepreneur und Gründer des Start-Ups A-Champs. A-Champs' Mission ist es, Menschen zu helfen ihr volles Potential auszuschöpfen. Dabei geht es nicht nur um Spitzensportler, sondern auch um Menschen mit neurologischen Beeinträchtigungen durch Parkinson, Schlaganfall etc.

Kilian hat seine Karriere bei der Metro Gruppe begonnen und hat im Jahre 2008 seine erste Produktentwicklungs- und Sourcing Firma in Shanghai gegründet.

Nachdem bei seiner Frau vor einigen Jahren Brustkrebs diagnostiziert wurde, wurde ihm auf die harte Tour klar, dass Gesundheit ein Geschenk ist.

Seitdem hat er es sich zum Ziel gemacht anderen Menschen zu helfen, die geistige und körperliche Leistungsfähigkeit zu steigern. Um dies zu erreichen, haben Kilian und das A-Champs Team ein interaktives Trainingssystem entwickelt, das zur Zeit international für Furore sorgt.
Prof. Dr Ulf Sobek
Go beyond the point - get out what you are made of! Learn how to train OPTIMALLY from a neuro-centred perspective.

Who wouldn't want to do that, to make the most of all the assets they have, to push and stretch them to the limit. Learn about the OPTIMAL (Optimising Performance Through Intrinsic Motivation and Attention for Learning) model and use the techniques for your training and that of your clients.

Leave your comfort zone together with Ulf Sobek and learn which techniques will take you beyond the point and why this is important not only in training. Because only those who push their limits know where they are and can develop further.
Vita

Prof. Dr. Ulf Sobek has been working for many years as a trainer, coach, speaker, lecturer and speaker both in the health sector and in competitive sports. The combination of "trainer with 30 years of experience" and a relatively young scientist is what makes Ulf Sobek so special.

He not only contributes his experience and knowledge as a lecturer and speaker for the German University of Prevention and Health Management (DHfPG) and the BSA Academy, but also for the DFB as an athletics trainer in the national U teams and for the DFB Academy.

In addition to his work with various Bundesliga football clubs, Ulf Sobek is also active internationally as a speaker and lecturer. As a personal coach, he combines classic training methods with current findings in neuro-performance training.

As one of the few coaches in Germany, he has successfully completed Z-Health's Neuro-Master Practitioner programme and thus helps his clients to make the most of all their existing assets.
Dominik Suslik
Readiness - Neuro-centred training in team sports

Daily training, week after week one or two competitions. How do you make your athletes feel ready and resilient every day?

In this workshop, you will learn triggering and breathing techniques to improve your athletes' readiness for training and competition.

Learn how to use neuro-centred techniques in training and competition preparation to ensure your athletes' resilience.
Vita

During his active career as a competitive footballer, Dominik completed his studies in sports science in Göttingen. He then worked in medical training therapy and as a fitness and athletics trainer in the German Handball League and with the DFB junior national team, among others.

As managing director and lecturer of the Physiocore Academy, Dominik was involved in the development of various movement concepts. Dominik is currently head of the department for training, performance and health management at Hannover96 - the Academy.
Martin Teichmann
Neuroathletics in physiotherapy - insights from everyday practice on working with competitive athletes to rock musicians

Martin introduces you to why, in his view, neuroathletics is an indispensable part of the physiotherapist's daily work and which simple assessments can be immediately integrated into everyday treatment. Eye movement instead of wobble board? Perforated glasses instead of neck massage? Active treatment options instead of passive "hands on" therapy?

In this workshop you can combine your acquired (physiotherapeutic) knowledge with neuroathletic exercises and increase treatment success and treatment creativity. Not only interesting for physiotherapists.
Vita

Martin is one of the first physiotherapists in Germany to be certified as a Z-Health® Trainer Specialist in the field of neuroathletics.

Martin Teichmann was active for four years as a physiotherapist in professional sport with the Telekom Baskets Bonn (Basketball Bundesliga). Today, he continues to look after various competitive athletes before, during and after competitions in his practice in Bonn and is on tour with professional musicians and bands.
Dr. Mireille Trautmann
The role of visual processing in visuomotor function - Neuroscientific findings

Motor processes are closely linked to visual processing. Optimal reception and reliable processing of sensory information is necessary for conscious perception. Only when visual information is processed efficiently and corresponds with the corresponding motor processes is the best possible visuomotor function possible.

Dr. Trautmann will introduce you to the world of visuomotor function and the importance of fixation, reflexive gaze jumps and voluntary gaze control. In addition to an introduction to the necessary diagnostics, she will provide an insight into neuroscientific findings and their significance for learning or relearning motor processes.
Vita

Dr. Mireille Trautmann studied psychology at the Albert-Ludwigs-University of Freiburg and did her doctorate in Jena. Her many years of research in the neurosciences have given her extensive expertise in the neurofunctional bases of attention, perception and cognition in learning disorders. She has been the head of the gaze lab in Freiburg since 2016.
Luise Walther
Neuro-centred training: low-threshold and everyday-specific application in everyday working life

Neuro-centred training is not only suitable for competitive athletes. On the contrary. Learn how to implement this training approach effectively and efficiently with your clients. Get tips and tricks from the expert in neurocentric training from over 6000 sessions at the interface of medicine and fitness.
Vita

With her Neurocentric Training, Luise Walther is causing a stir in the health and fitness industry. Her focus is on the individualisation and professionalisation of training processes in order to reduce pain and optimise movement sequences.

The specialist for rehabilitation, injury prevention and performance enhancement puts the holistic view of physical performance in the foreground. The central basis of her neuro-centred work is the realisation that movement, pain and performance originate in the brain.
For this reason, Luise Walther is convinced, training must be radically rethought and implemented.

Only a few trainers throughout Germany possess her expertise and international qualifications, which is why renowned companies and media count on her expert opinion. The enthusiastic feedback from her clients also proves her many years of work and experience right.